San Francisco Bankruptcy Attorney – 30 Years Experience
Affordable, Low Cost Bankruptcy Fees
How much do lawyers charge for Chapter 7?
As a San Francisco Bankruptcy Attorney, Keith F. Carr charges affordable, low cost bankruptcy fees. Because of this, cheap Bankruptcy attorneys make filing for bankruptcy possible and convenient without giving up quality representation. Attorney Keith F. Carr has a 5-star Yelp rating.
Attorney Keith F. Carr charges an affordable fixed fee for Chapter 7 when compared to other lawyers who charge a substantial premium fixed fee, $2,500 to $3,000 for even a simple Chapter 7 case. In fact, Attorney Keith F. Carr charges only a fraction of this premium fixed fee that other lawyers charge for a simple Chapter 7 case. For instance, Debt.org summarizes the high fees charged by other lawyers for Chapter 7 Bankruptcy cases.
When you consult with us, you will learn your bankruptcy rights and will be given a quote of attorneys fees in your case. Your actual attorneys fees will depend on the complexity of your case and your financial situation. Payment plans are available.
Bankruptcy law prevents "$0 upfront" attorneys in Chapter 7 from collecting fees from you once your case is filed. Have your attorney guarantee you full representation and service throughout the entire process before you hire them.
Attorney Keith F. Carr prepares and guides clients through the entire process without shortcuts. The Chapter 7 fixed fee includes full representation in Chapter 7. Full representation includes preparation of the Chapter 7 petition. In addition, full representation involves legal counseling on all matters in the Chapter 7 Bankruptcy. In addition, Attorney Keith F. Carr will appear with the client at the Meeting of Creditors.
How much are court costs for bankruptcy?
The Court Filing Fee for Chapter 7, which is $338.00. For Chapter 7, debtors may request to pay the fee in installments. Also, debtors may ask for a fee waiver to completely avoid paying the fee.
For Chapter 13 bankruptcy case, the court filing fee is $313.00. Fee waivers are not available for Chapter 13 cases.
Credit Counseling Requirement Before Filing Bankruptcy. Credit Counseling is required of all individual debtors prior to the Chapter 7 or Chapter 13 Bankruptcy filing. In general, you should be charged between $25 and $50 Dollars per person for a credit counseling session.
Our office refers clients to either Debthelper.com or Cricketdebt.com . Credit counseling includes discussing our monthly income, expenditures, and debt payments to determine if you are eligible to file bankruptcy. At the conclusion of the credit counseling session, you are given a Certificate of Credit Counseling which must be filed with the Chapter 7 or Chapter 13 Petition.
Once the bankruptcy is filed, the debtor must complete a Debtor Education course in Financial Management, usually a one-hour course followed by a short quiz. The Financial Management course is required to obtain a Chapter 7 or Chapter 13 discharge of your debts.
If the course is not taken, the bankruptcy case will be dismissed without a discharge. The charge of the course should be between $25 and $50 Dollars per person.
At the conclusion of the course in Financial Management, you are given a Certificate of Completion of Debtor's Education. This certificate must be filed with the Bankruptcy Court in order to obtain your Chapter 7 or Chapter 13 discharge.
Strain on Your Employment Income
Repayment of your creditors may be straining your income from employment. For instance, the monthly payments on your credit card debts (usually covering interest only) may require you to devote a significant portion of your paycheck. As a result, this could amount to thousands of dollars each month.
Furthermore, you may have unexpected medical bills which make it impossible to cover your monthly credit card or car loan payments. You may have ever increasing payday loans, which prevent you from meeting the required monthly payments. Your wages are about to be garnished.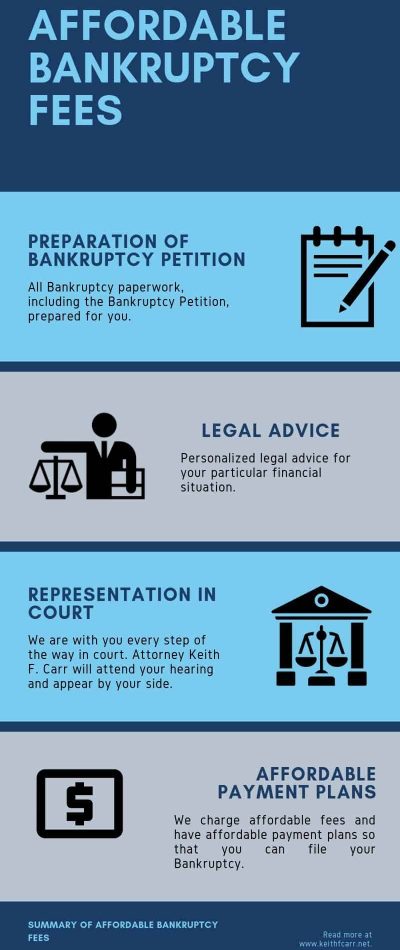 Emergency Bankruptcy Filing
The Law Offices of Keith F. Carr can handle your emergency bankruptcy filing to stop immediate collection action by your creditors. Therefore, an emergency bankruptcy filing can stop foreclosure of your home or garnishment of your wages.
An emergency bankruptcy filing can also stop your bank account from being seized or a lawsuit from being filed against you. Additional attorney's fees will apply. Learn more …
Conclusion
To summarize, the Law Offices of Keith F. Carr charges low cost, affordable fees for full representation in bankruptcy. The total attorney's fee is determined by the complexity of the case and the circumstances of the individual debtor. There are other costs involved. Attorney Keith F. Carr can handle emergency bankruptcy filings.
Corporations and partnerships cannot proceed in bankruptcy without an attorney. While there is no requirement to hire an attorney for Bankruptcy, learn if you need a Bankruptcy attorney: Do you need an Attorney for Bankruptcy?
Here's what our clients are saying about us
Mr. Carr helped me file Chapter 7 bankruptcy. He made it quick, easy, and affordable, and it went off without a hitch. Plus, he was friendly and easy to work with. Highly recommended!